January 11th, 2023 (
SpamSieve
)
Version 2.9.51 of SpamSieve is now available.
Save time by adding powerful spam filtering to the e-mail client on your Mac. SpamSieve gives you back your inbox, using Bayesian spam filtering to provide amazing accuracy that's constantly improving. SpamSieve learns and adapts to your mail, so it's able to block nearly all the junk—without putting good messages in the spam mailbox. It's quick and easy to control SpamSieve from within Apple Mail, Airmail, Entourage, MailMate, Mailsmith, Outlook, Postbox 5, PowerMail, and more.
SpamSieve running on your Mac can keep the spam off your iPhone/iPad, and you can even train SpamSieve from your iOS device.
SpamSieve protects your privacy. It does not need access to your mail account login and does not transmit your mail data anywhere. All the processing is done on your Mac.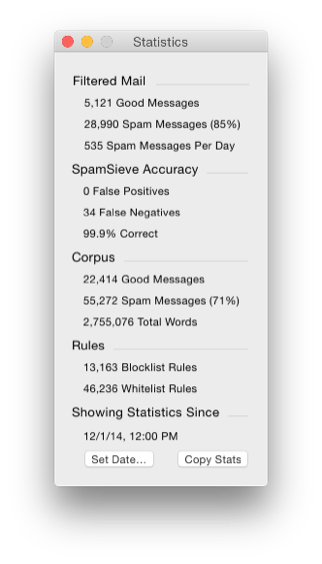 This is a free update that includes the following changes:
Made various changes to improve SpamSieve's filtering accuracy.
When using Apple Mail, SpamSieve installs a launch agent, and this now shows up as SpamSieve rather than as C-Command Software in System Settings ‣ General ‣ Login Items ‣ Allow in the Background on macOS 13.
Renamed Preferences to Settings for macOS 13.
Improved the diagnostic report on macOS 13.
If training a message doesn't work due to an AppleScript failure, the error message now explains how you may be able to fix this by removing problematic legacy component files from your Mac.
Improved the error reporting when the Apple Mail plug-in cannot be installed due to a file permissions problem.
Improved the following sections of the manual:
The Apple Mail - Rescue Good Messages script now has an option to remove colored flags that were added by the server junk filter, as these can make spam messages show up in Mail's special mailboxes even after they've been deleted.
The Apple Mail - Remote Training script now skips accounts that are disabled in Mail to avoid spurious errors.
Added a workaround to the Apple Mail - Remote Training script for some users whose messages were not being moved out of the TrainGood mailbox.
Made various code modernizations.
SpamSieve now requires macOS 10.13 (High Sierra) or later.
SpamSieve 2.9.51 works with macOS 10.13 through macOS 13 and requires an e-mail client. Older SpamSieve versions are available for older versions of macOS. In-depth information about SpamSieve is available in the manual.
If you enjoy using SpamSieve, please take a moment to review it on Product Hunt or MacUpdate or to mention it on Twitter, Facebook, or your own site. We'd really appreciate it.