March 10th, 2023 (
SpamSieve
)
Version 2.9.52 of SpamSieve is now available.
Save time by adding powerful spam filtering to the e-mail client on your Mac. SpamSieve gives you back your inbox, using Bayesian spam filtering to provide amazing accuracy that's constantly improving. SpamSieve learns and adapts to your mail, so it's able to block nearly all the junk—without putting good messages in the spam mailbox. It's quick and easy to control SpamSieve from within Apple Mail, Airmail, Entourage, MailMate, Mailsmith, Outlook, Postbox 5, PowerMail, and more.
SpamSieve running on your Mac can keep the spam off your iPhone/iPad, and you can even train SpamSieve from your iOS device.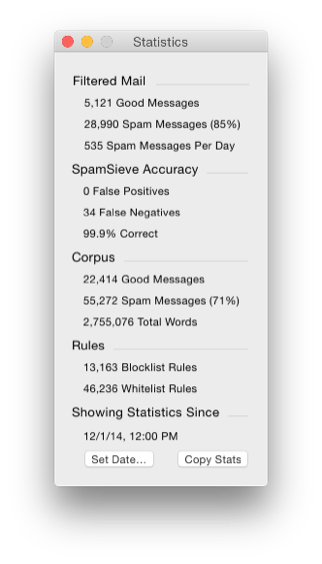 SpamSieve protects your privacy. It does not need access to your mail account login and does not transmit your mail data anywhere. All the processing is done on your Mac.
This is a free update that includes the following changes:
Added support for Apple Mail on the forthcoming macOS 13.3. We recommend updating SpamSieve before updating macOS. SpamSieve 2.9.52 should automatically update the installed version of its Apple Mail plug-in, and the plug-in should stay enabled. However, if you don't see the SpamSieve commands in Apple Mail's Message menu, be sure to choose Install Apple Mail Plug-In from the SpamSieve menu and to enable the plug-in.
Made various changes to improve SpamSieve's filtering accuracy.
If you are using Apple Mail on macOS 13, we recommend going to Mail ‣ Settings ‣ Accounts ‣ Account Information and setting Download Attachments to All for each account. This can work around a Mail bug that causes a hang when training a message.
Added an experimental workaround for an issue on macOS 13 that could cause Apple Mail to take a long time to launch. For information on how to enable the workaround, please see the If Apple Mail Is Running Slowly section of the manual.
Improved the speed of filtering the first message after SpamSieve launches.
Added the following sections of the manual:
Improved the following sections of the manual:
Improved the error reporting for the Apple Mail plug-in installer.
SpamSieve 2.9.52 works with macOS 10.13 through macOS 13 and requires an e-mail client. Older SpamSieve versions are available for older versions of macOS. In-depth information about SpamSieve is available in the manual.
If you enjoy using SpamSieve, please take a moment to review it on Product Hunt or MacUpdate or to mention it on Twitter, Mastodon, Facebook, or your own site. We'd really appreciate it.