August 4th, 2022 (
SpamSieve
)
Version 2.9.50 of SpamSieve is now available.
Save time by adding powerful spam filtering to the e-mail client on your Mac. SpamSieve gives you back your inbox, using Bayesian spam filtering to provide amazing accuracy that's constantly improving. SpamSieve learns and adapts to your mail, so it's able to block nearly all the junk—without putting good messages in the spam mailbox. It's quick and easy to control SpamSieve from within Apple Mail, Airmail, Entourage, MailMate, Mailsmith, Outlook, Postbox 5, PowerMail, and more.
SpamSieve running on your Mac can keep the spam off your iPhone/iPad, and you can even train SpamSieve from your iOS device.
SpamSieve protects your privacy. It does not need access to your mail account login and does not transmit your mail data anywhere. All the processing is done on your Mac.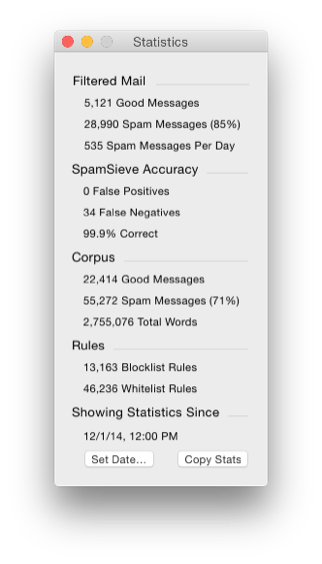 This is a free update that includes the following changes:
Made various changes to improve SpamSieve's filtering accuracy.
Fixed an issue where, on macOS 12.5, sometimes Mail would move e-mails received immediately after launch to the Junk mailbox without asking SpamSieve whether they were spam.
Fixed an issue where, on macOS 12.5, sometimes SpamSieve would disable its Apple Mail rules because it looked like Mail hadn't loaded the plug-in, but actually Mail was just slow to launch.
Made a change to prevent potential problems setting up the Message menu in Apple Mail on future versions of macOS 13 Ventura.
Fixed a bug where SpamSieve could incorrectly report that another copy of the Apple Mail plug-in was installed in the wrong place, when that copy might be necessary for another macOS user account on a different volume.
Fixed a bug that in rare cases could prevent SpamSieve from detecting that two copies of the Apple Mail plug-in were loaded at the same time.
SpamSieve is better at handling damaged rules files.
Reduced the size of the app by removing a helper tool that was only necessary for Apple Mail on macOS 10.7, which is no longer supported.
SpamSieve 2.9.50 works with macOS 10.9 through macOS 13 and requires an e-mail client. Older SpamSieve versions are available for older versions of macOS. In-depth information about SpamSieve is available in the manual.
If you enjoy using SpamSieve, please take a moment to review it on Product Hunt or MacUpdate or to mention it on Twitter, Facebook, or your own site. We'd really appreciate it.