---
The top of DropDMG's status window shows the current configuration in a pop-up menu. If the current settings do not match any saved configuration, the menu says (custom). Below the menu is a line of text showing the options that are associated with the current configuration. You can quickly change configurations—without opening the Preferences window—by selecting a new one from the menu.
Individual options may be changed by opening the Preferences window or by Control-clicking on the striped portion of the window.
You can drag files or folders onto the striped portion of the window to create disk images or archives using the options shown in the Status window. Drag and drop an image or archive to convert it to the format shown in the window. Hold down the Option key when dropping to set temporary preferences for that operation. Hold down the Shift key when dropping a folder or disk image to burn it. Hold down the Shift and Option keys to burn a disk image as a file instead of an image. Hold down the Control key when dropping an image to fix it. These same modifier keys also work when dragging and dropping onto the DropDMG application icon.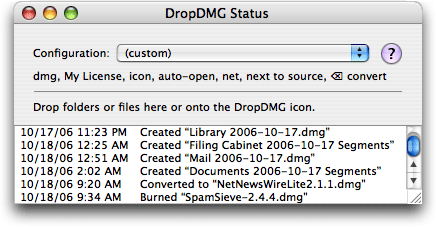 The bottom portion of the status window displays a log of the images and archives that DropDMG has created, converted, and fixed. Choose Clear Log from the File menu to erase the contents of the log.
---