---
This creates an empty disk image with the specified format and size and mounts it in the Finder. The blank disk image acts as a virtual disk. Applications can directly read and write to files stored on the disk image, but the files disappear when you eject the disk image. Double-click the disk image file to make its contents accessible again.
By setting the disk image to be encrypted, your virtual disk can act as a mini FileVault. When using FileVault, your entire drive (Mac OS X 10.7) or home folder (Mac OS X 10.6 and earlier) is encrypted. This is slow, makes your data more susceptible to corruption, and (on Mac OS X 10.6 and earlier) limits the ability to back up and recover files using Time Machine. Disk images created by DropDMG use the same encryption technology as FileVault, and they avoid FileVault's drawbacks by only encrypting the files that you choose.
Image Format

Blank disk images can be created in .dmg, .sparseimage, and .sparsebundle formats. For more information, see Format section.

Encryption

The encryption can be None, 128-bit AES, or 256-bit AES. For more information on the encryption types, see the Encryption section. You can use the From Configuration pop-down menu to quickly enter a passphrase saved in the keychain.

Volume Size

This is the maximum capacity of the blank disk image. For .dmg files, this is also how much space the disk image will take up. Sparse disk images will consume less disk space, depending on how much of the capacity you use.

Volume Name

The name of the virtual disk, as shown in the Devices section of the Finder's sidebar. This need not necessarily be the same as the name of the disk image file, which is set in the Save As field.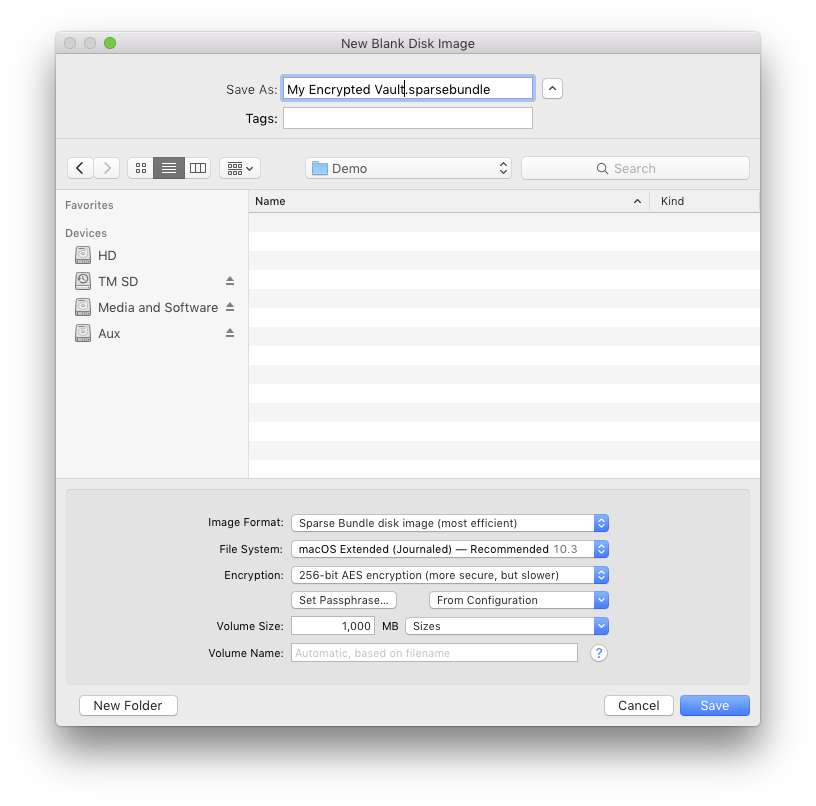 ---